I was looking at some of my older swatches the other day and I noticed how the shape of my nails has changed tremendously throughout this past year. From rounded tips, to squoval, to square; it almost feels like my nails have gone through a major transformation.
I just wanted to show you all what perfect nail care can do to your nails! I'm not a reformed nail biter or anything but I never actually paid attention to my nails until I started this addicting hobby. I'm really happy with the shape and length of them now and I never imagined they would ever look like this. People often ask me whether they're fake
(I usually take this as a compliment until they start doubting me. Lol!)
and are really surprised when I tell them they're not. I just thought I'd let you all know that anything is possible and hard work really pays off so don't give up!! =)
Here are some things that I do differently now compared to when I first started:
1. I use a glass file.
I really like glass files because they prevent my nails from peeling. Also, they hardly get dull and can be easily cleaned or sterilized with rubbing alcohol.
2. I moisturize a lot.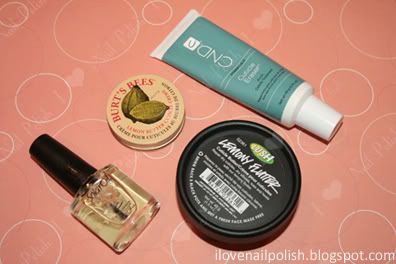 My favourite cuticle care products include CND Solar Oil, Burt's Bees Lemon Butter, Lush Lemony Flutter, and CND Cuticle Eraser.
3.
I avoid soaking my nails in water. This is very important to keeping the length and preventing breakage. Therefore, always remember to wear gloves to clean with and have polish on when you shower.
Here are just some of the tips to have healthier nails. I can post a more detailed guide if you ladies are interested. Also, please visit the MUA Nail Board for more expert advice! =D
Thanks for reading!